Regular price
$81.00 USD
Sale price
$81.00 USD
Unit price
per
Sale
Sold out
Introducing our 100% Cotton Duvet Cover Textured Print in the stunning shade of Living Coral. Crafted with utmost care and attention to detail, this elegant duvet cover is designed to elevate your bedroom décor. This soft cotton duvet cover is made from premium cotton, it offers exceptional softness, ensuring a comfortable and restful sleep. The vibrant Living Coral hue brings a touch of modernity and warmth to your bedroom, making it a perfect choice for those seeking a trendy and cozy sanctuary. Upgrade your bedding with this high-quality duvet cover that combines style, comfort, and durability effortlessly.
What's included?
1 x Quilt cover
1 x Standard Size Pillowcase (Single)
2 x Standard Size Pillowcases (Double, Queen, King, Super King)
Material:
Sizes Available:
Single Size (140 x 210)cm
Double Size (180 x 210)cm

Queen Size (210 x 210)cm
King Size (240 x 210) cm
Super King Size (270 x 240) cm
Standard Pillowcase Size (48 x 74)cm
Product Care :
These are the care instructions for the product. It is recommended to line dry the bed linen in shade, use a mild detergent, avoid fabric softeners, remove stains gently, and wash at 40 degrees with a gentle cycle. Air drying is best, but a short dryer cycle can be used on medium heat. Iron on warm, avoiding decorative panels, studs, or buttons. Do not dry clean. Ensuring the item is completely dry before storing can prevent mildew. Following these instructions can help prolong the life of the product.
Features:
Materials and Compositions

100% Cotton
Textured Print
Size

Single Size (140 x 210)cm
Double Size (180 x 210)cm
Queen Size (210 x 210)cm
King Size (240 x 210) cm
Super King Size (270 x 240) cm
Standard Pillowcase Size (48 x 74)cm
Product Care Instruction

Product Care Instruction:
Care instructions vary based on the constructions of each fabric and product so we have compiled some basic guidelines.

How to dry ?
Please line dry all the bed linen in shade and DO NOT dry in direct sunlight.

What detergent should you use?
We recommend you wash this item separately before first use. Use a mild detergent and wait until it is fully diluted in the water before putting the item in the washing machine. Undiluted detergents can cause staining on the fabric. Read the amount recommended on the laundry liquid bottle or box to determine how much to use.

We recommend using a detergent that is free from Optical Brightening Agents (OBAs). This is a very common ingredient in most of the detergents and is great for keeping whites white, however can also weaken and discolour certain fabric fibres. We recommend using a eucalyptus based detergent such as wool wash which you can find in your local supermarket.

Should you use fabric softener?
Fabric softener is not necessary for this item.

How do I remove stains?
We recommend cleaning stains as quickly as possible after they appear, although we understand etiquette might sometimes prevent this. Try to not strenuously scrub the stain away, but rather to gently soak, wash or blot it out, this process can be repeated until optimum results are obtained. It is easier to remove stains from natural as opposed to synthetic fabrics because the natural fibres are living and more accepting of attention. Once a stain is truly set, however, it is often difficult to remove.

When a fabric comes in contact with bleach or benzoyl peroxide it will permanently stain/discolour. If the discolouration is a green hue it is due to bleach and if it is an orange hue then it is due to peroxide exposure. As these ingredients are known to be in certain skin and acne treatments, we recommend you be aware of the potential staining and take necessary precautions to avoid permanently damaging your linen.

What water temperature is best?
Amsons recommends that this product be laundered using a warm gentle machine wash at 40 degrees. The warm water temperature setting is more effective at removing dirt and natural body oils and more importantly in removing chemical residue of the detergents from the fabric. Detergent residue will deteriorate the fabric fibres if they are not rinsed out properly.

The gentle wash cycle protects the fibres used in our product construction. With the slow cycle, the products are left in the washing machine for a longer period of time ensuring dirt and body oils are removed completely and all detergent is rinsed out of the fabric properly.

By not overloading the washing machine, avoiding excess heat, detergent and any additives, and choosing gentle cycles and thorough rinses, you will protect your item from stress and damaging surface residue.

Should you put this item in the dryer?
Air drying is best for the longevity of this item, but can sometimes leave the fabric feeling a bit stiff to the touch. If you plan to air dry, 10-12 minutes on medium heat in the dryer before you hang them out to dry helps to re-orient the fibres after washing and leave a soft finish on the surface of the fabric.

When drying in the dryer, please avoid overloading the machine. Drying items in smaller loads allows for even drying. Tumble dry for no longer than 20 minutes on the low or medium heat setting. Repeat this process for the remaining items. Remember to be cautious as to not over dry your items as this will weak their fibres and potentially cause them to deteriorate.

Remove the items from the dryer while they are still slightly damp. Spread them out neatly on the bed or hang them over a railing or shower curtain rod to finish air-drying. Gravity will do the work of eliminating nearly all wrinkles. The cool, gentle flutter of a ceiling fan is also great for the final stage of drying.

Please always ensure your item is completely dry before storing to prevent any dampness and mildew.

Can you iron this item?
If you do choose to iron your item, we recommend that you use your iron on a warm setting. Please avoid ironing directly on any decorative panels, studs or buttons.

Can you dry clean this item?
We recommend that you do not dry clean this item.

By following our recommended care instructions you will prolong the life of your purchase and be able to enjoy it for many years to come.

More Details

Give an outdoorsy, autumnal feel to your bedroom with the inviting colour Living Coral Textured Print Quilt Cover Set from Amsons.

Made of pure 100% cotton for a beautifully soft fabric feel as well as resiliency to withstand everyday use.

Cotton is lightweight, breathable, and gentle against skin a great bedding choice in any season.

The design of textured print was originally designed, with the subtle brushstrokes and perfections in colour translating into the print helps to create further visual and textural interest upon your bed.

Set includes two matching pillow cases for your convenience.

Pillow cases are sized to fit standard-sized pillow inserts (not included) for practicality.

Product Details:

1 x Quilt Cover
1 x Matching Pillowcase (Single)
2 x Matching Pillowcase (Double) (Queen) (King) (Super King)

NOTE: If there is any issue with the item please let us know with in 30 days of purchase as we won't be able to full fill any concerns after this period.

Please Bear in Mind That Photo May Slightly Different From Actual Item in Terms of Colour Due to the Lighting During Photo Shoot or the Monitor's Display.
View full details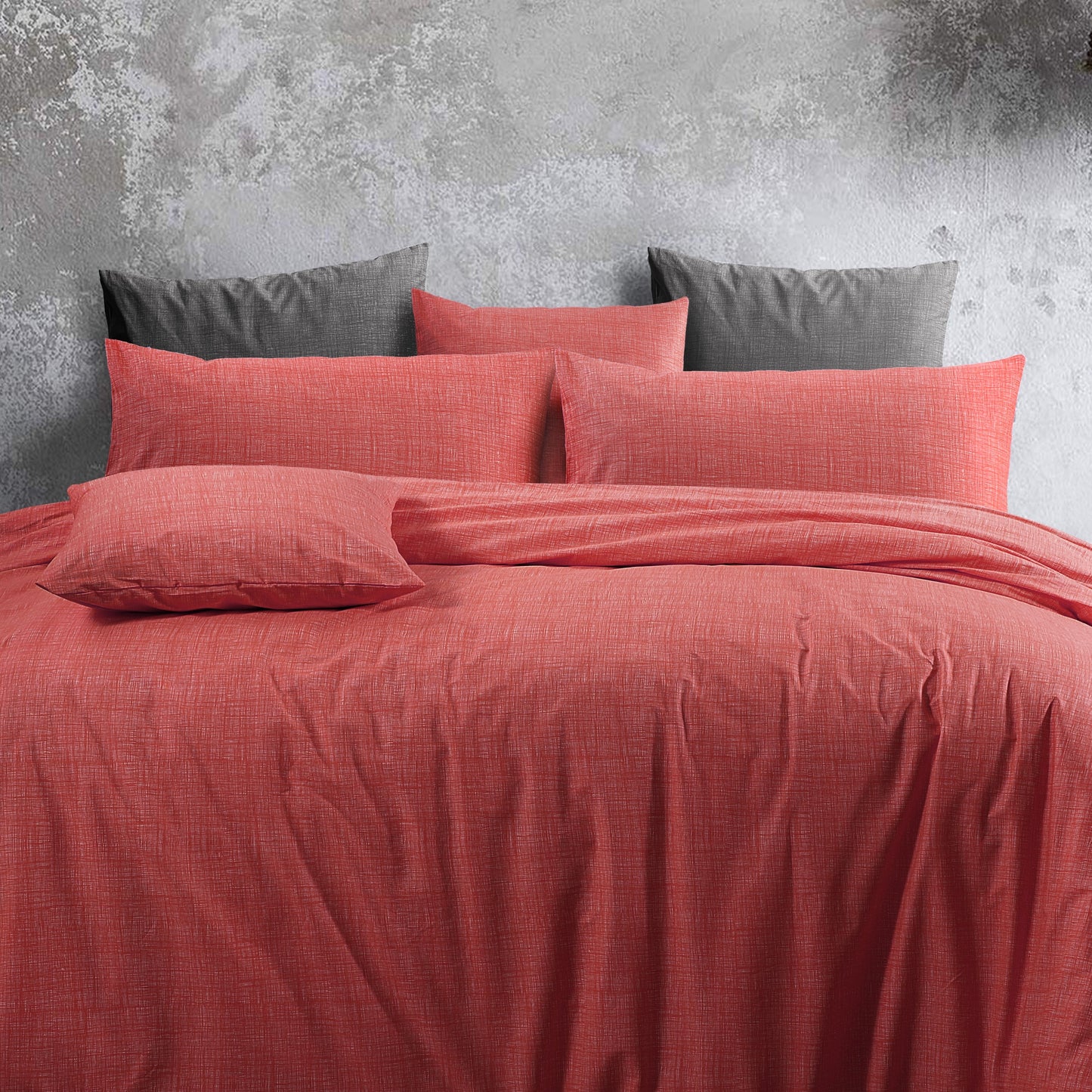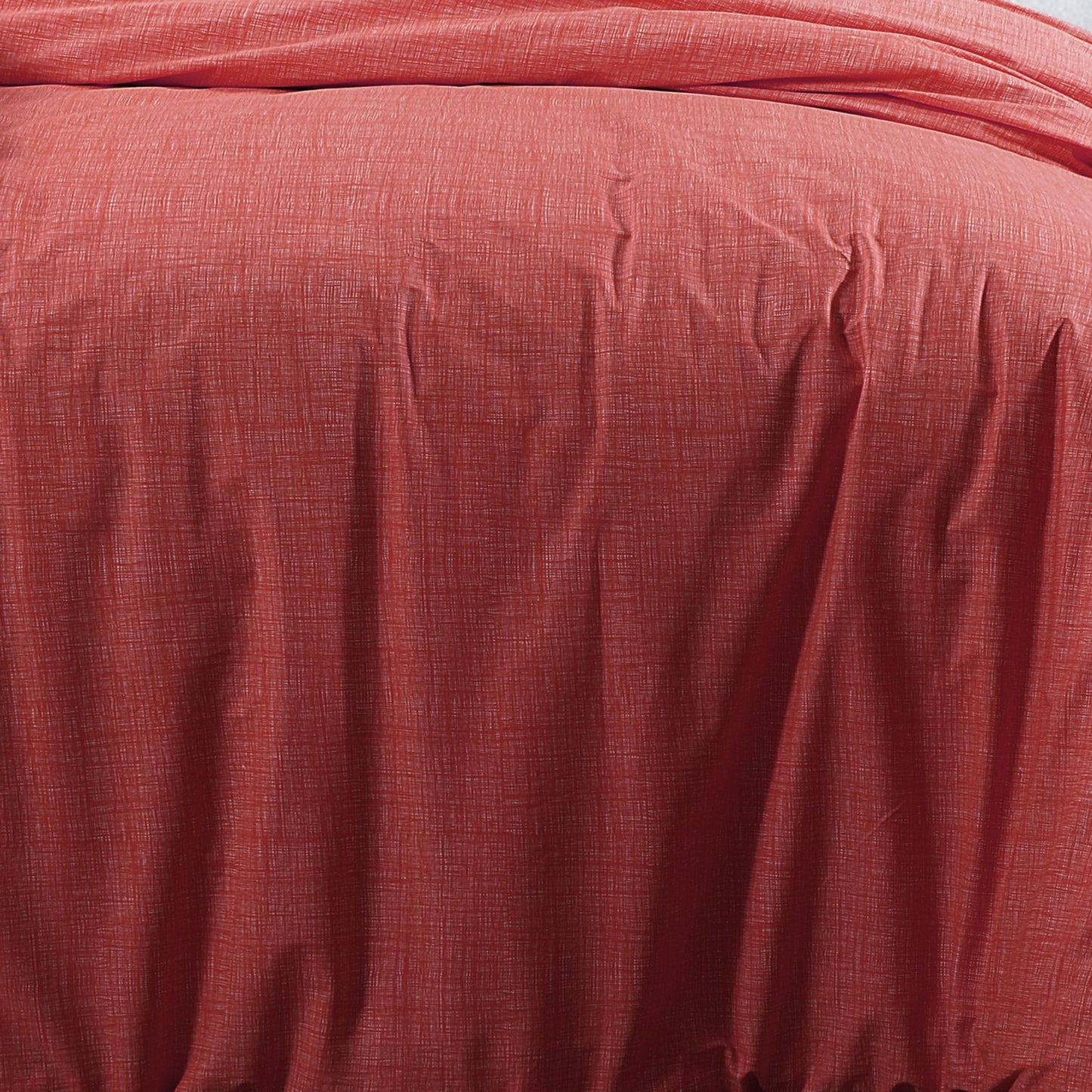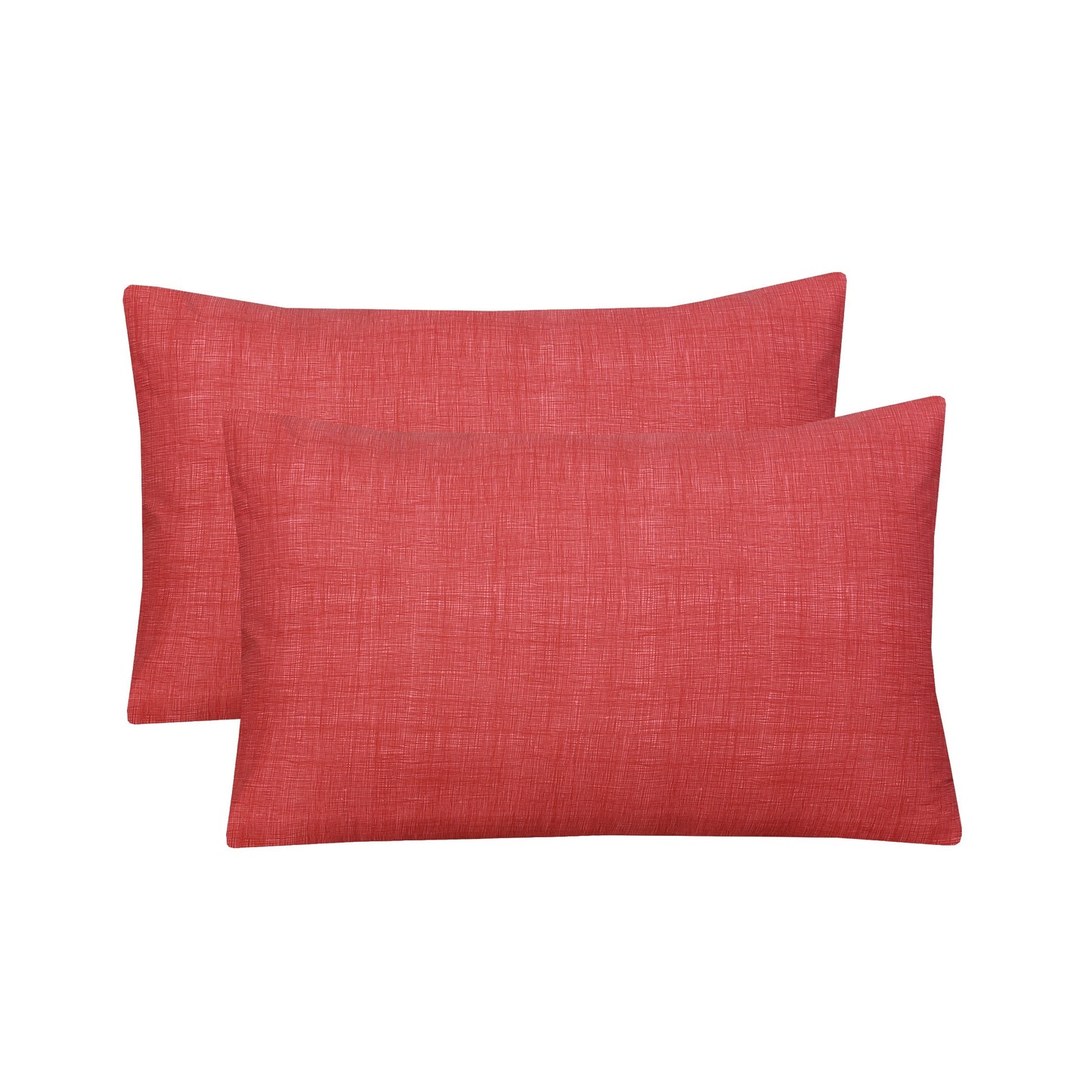 Looks so close to a coral colour, thanks.
Bought as a christmas gift for my mum and she loves it